Welcome to Paws 4 Love Pet Rescue
Paws 4 Love Pet Rescue goal is to help educate the community, so that people are responsible for their pets, where there are no helpless creatures abandoned in boxes or left to fend for themselves in parking lots, where there is no longer a need for any healthy companion animal to be euthanized. There are many worthy organizations and individuals working toward this end. Progress is being made, but there is so very far to go.
Our cats and kittens live in foster homes, so we know them purrfectly well including their purrsonalities and preferences. We can tell you who's a cuddler, who's a player and who's a lover. We know who wants to be an only cat and who wants to be part of a herd. If we don't think the cat you've chosen is perfect for you or for your home, we'll tell you. We want every cat to be a happy cat in a happy home.

We are scheduling  private appointments now because this is less stressful than having our babies in cages in a loud and scary environment. Therefore we are no longer located at any retail outlet. Please check our for adoption page and call to schedule your appointment to see them relaxed and happy, sitting on their favorite cat tree or sunning themselves in a window or napping on a kitty hammock.
Interested in one of our cats up for adoption?
Please check the  "For Adoption" page.  
Or call for more information at 702-622.3092.
---
Emma's Story
*update week of May 22*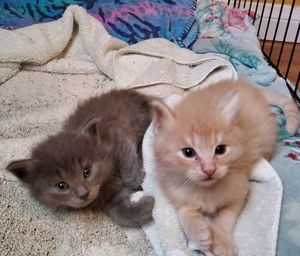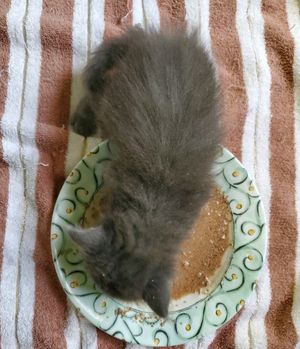 Hi again, week 7, my babies are 5 weeks old and boy are they busy now. They are currently running around and climbing onto everything they can find. They are keeping our caregiver busy just making sure they are safe while they play and get into everything. I have decided it is time for them to start eating on their own. Last night little Olive (all gray) was the first and last one at the plate, she was so hungry, as if I never feed her, honestly! Everyone else decided
they really didn't want to try the kitten food yet. Little Olive had a complete sponge bath when she finished, she insisted on having all 4 paws in the food dish, she even had food on the top of her hear, what a MESS! We will keep at it and by the end of this coming week all of them should be eating on their own, that will be a big relief for me. I keep trying to get away from them, but they are pretty adamant about still nursing. Their tail are standing straight up so that
is also a sign that they are ready to be weened. Last week I told you that our caregiver brought toys in well I was right they didn't care about her toys (that will come), but they love being out and running free, so when she comes in they run for the door of their crate so they can be out. Kids, fickle, right? Believe it or not all of my kittens have already had their first nail trim, those little claws are lethal at this age.
Few facts:
• Kittens are born unable to retract their claws. By 27 days of age, the claws can be retracted at will.
• Use of litter box is instinctual for cats. Kittens will learn to use the litter box just by watching their mothers use it. Give kittens a smaller litter box.
• Curious kittens will explore anything they can get into. Look around your house for anything that can cause harm.
• Redirect aggressive play with your hands or feet toward a toy, so they don't get into the habit of biting and scratching people.
• Get them acclimated to proper scratching surfaces like sisal and corrugated cardboard. It feels good and will make them less inclined to scratch your furniture.
• Kittens grow through infancy, childhood, adolescence and into young adulthood in the firsttwo years. By the age of 2, their eye color, coat color, pattern and length, and personality will be well-established.
The kittens are available for adoption, Paws 4 Love is asking that if you would like to choose your kitten(s) now, there would be a deposit (half of the adoption fee, non-refundable should you change your mine) taken to insure you get the kitten(s) you want.
The kittens will be available to take home after 8 weeks, at that point they will have been checked by our Vet, tested for FELV and given their first set of vaccines. The adoption fee ($85 per kitten) will include FELV testing, 3 series of vaccines, spay/neuter and micro-chip. (You will need to use our Vet for the above items.) If you are interested in adopting please contact my caregiver (Pat) at 702-622-3092 for more information.

I will be updating my story on our website: www.paws4love.net, towards the end of every week,
so please check back to see what has happened in the past week. Once my babies are born
pictures will be taken and shared. Thanks for listening to my story and hope you check back
next week.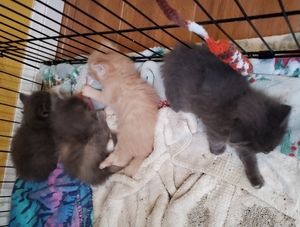 ---
Paws 4 Love is not accepting cats/kittens at this time.
HOWEVER, IF YOU HAVE A CAT THAT WAS ADOPTED FROM US AND YOU NEED TO RELINQUISH, WE WILL TAKE OUR CATS BACK INTO THE GROUP.
You may contact us at 702-622-3092 if you need assistance with a former adopted cat.
---
Head over to our new tab Rainbow Bridge! Anyone is welcome to send us pictures. We would need your name and your pet's name. Send the pictures to our group email address: pawslasvegas@hotmail.com
---
Help us Help them!
Did you know that by signing onto AmazonSmile and then choosing 'Paws 4 Love' as your charity, the group receives quarterly donations?  There is no extra charge on your orders, certain retailers donated a percentage back to the charity that is chosen by you. 
Below are directions to choose 'Paws 4 Love' as your charity and then just go to AmazonSmile and order as your normally do.  We appreciate the help!
On your first visit to AmazonSmile (smile.amazon.com), you are prompted to select a charitable organization from our list of eligible organizations. You can change your selection at any time.
To select your charitable organization:
1.      Sign in to smile.amazon.com on your desktop or mobile phone browser.
2.      From your desktop, go to Your Account from the navigation at the top of any page, and then select the option to Change your Charity. Or, from your mobile browser, select Change your Charity from the options at the bottom of the page.
3.      Select a charitable organization to support.

Donate now to help offset ongoing
veterinary expenses