Welcome to Paws 4 Love Pet Rescue
Paws 4 Love Pet Rescue goal is to help educate the community, so that people are responsible for their pets, where there are no helpless creatures abandoned in boxes or left to fend for themselves in parking lots, where there is no longer a need for any healthy companion animal to be euthanized. There are many worthy organizations and individuals working toward this end. Progress is being made, but there is so very far to go.
Our cats and kittens live in foster homes, so we know them purrfectly well including their purrsonalities and preferences. We can tell you who's a cuddler, who's a player and who's a lover. We know who wants to be an only cat and who wants to be part of a herd. If we don't think the cat you've chosen is perfect for you or for your home, we'll tell you. We want every cat to be a happy cat in a happy home.

We are scheduling  private appointments now because this is less stressful than having our babies in cages in a loud and scary environment. Therefore we are no longer located at any retail outlet. Please check our for adoption page and call to schedule your appointment to see them relaxed and happy, sitting on their favorite cat tree or sunning themselves in a window or napping on a kitty hammock.
Interested in one of our cats up for adoption?
Please check the  "For Adoption" page.  
Or call for more information at 702-622.3092.
---
Emma's Story
*update week of June 19*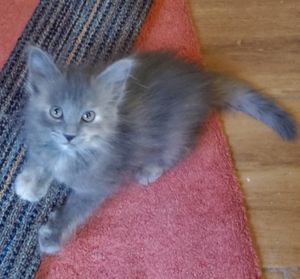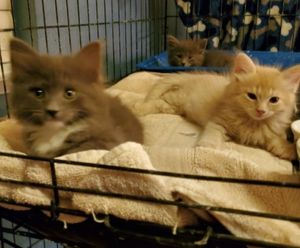 This will be my last post, wanted to say 'GOODBYE' and 'THANK YOU' to everyone that has been following my story. My babies turned 8 weeks on June 17 and are ready to be adopted, we would like to ask you to share with anyone and everyone that might be looking for a new bundle of fur to love. Included are pictures of my babies, a side note, however a BIG SIDE NOTE, Quincy turned out to be another little girl, she has a new name "Anya', however, her
personality hasn't changed, she is a bundle of energy like her brother Nigel. My babies went to the vet on June 16, they were checked over by Dr. Inna, given their first set of vaccines, tested for leukemia (all negative), de-wormed and weighed, here are the results: Nigel (buff/male) and Anya (gray/white/female) weighed in at 2.2 lb, Hester (torti/female) and Olive (all gray/female) weighed in at 1.8 lb. Dr. Inna gave them a clean bill of health. I stayed at the clinic and was vaccinated, spay and micro-chipped, my new Mom came and got me the same afternoon and I am in my new home and doing well.

Please remember that my babies still need homes, could you be looking for a little fur-ball, perhaps to go with your larger fur-ball?

I hope you all have a wonderful life and take care of your fur-babies.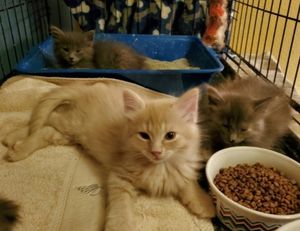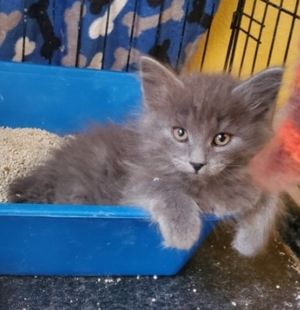 The kittens are available for adoption.
The kittens are available to take home on June 19, at that point they will have been checked by our Vet, tested for FELV and given their first set of vaccines. The adoption fee ($85 per kitten) will include FELV testing, 3 series of vaccines, spay/neuter and micro-chip. (You will need to use our Vet for the above items.) If you are interested in adopting please contact my caregiver (Pat) at 702-622-3092 for more information.
---
Paws 4 Love Maternity Ward Raffle
Paws 4 Love is promoting a raffle of 5 different items. All items have been donated to the group and with your help we can raise funds to assist with taking care of Emma and her 4 kittens (testing, vaccinating, spay/neutering and chipping, not to mention all of the kitten food 4 babies can go through, amazing!). There are several different ways that you can access our raffle, by using the link below or text. You will need to register as the system will pull the winners at the end of the event, so we need to be able to get in touch with you. The donations/money will also assist with all of the elderly cats we have had turned back into the group, as you are aware prices have increased, unfortunately (actually we are thrilled they eat like they do) their appetites have not diminished.
Tickets are: 10 for $10, 30 for $20 and 65 for $50, you can pick and choose the baskets you want to put your name in for the drawing. The raffle will run from June 6 through July 6 with the winners being drawn on July 8, arrangements will be made for pick-up/delivery or mailing (winner will need to pay postage).
There are 5 baskets which include: Brighton handbag, Mosaic Art, Wine basket, Champagne basket and Pet basket
(for both dogs and cats), the site has pictures, descriptions and values included on it.
Again, we would like to thank each and everyone of you for helping us with our cause, just a reminder your donation
is a tax write-off for you. We wish all of you GOOD LUCK!
Text: 855-202-2100 keyword is Emma
Link: https://go.rallyup.com/p4l
---
Paws 4 Love is not accepting cats/kittens at this time.
HOWEVER, IF YOU HAVE A CAT THAT WAS ADOPTED FROM US AND YOU NEED TO RELINQUISH, WE WILL TAKE OUR CATS BACK INTO THE GROUP.
You may contact us at 702-622-3092 if you need assistance with a former adopted cat.
---
Head over to our new tab Rainbow Bridge! Anyone is welcome to send us pictures. We would need your name and your pet's name. Send the pictures to our group email address: pawslasvegas@hotmail.com